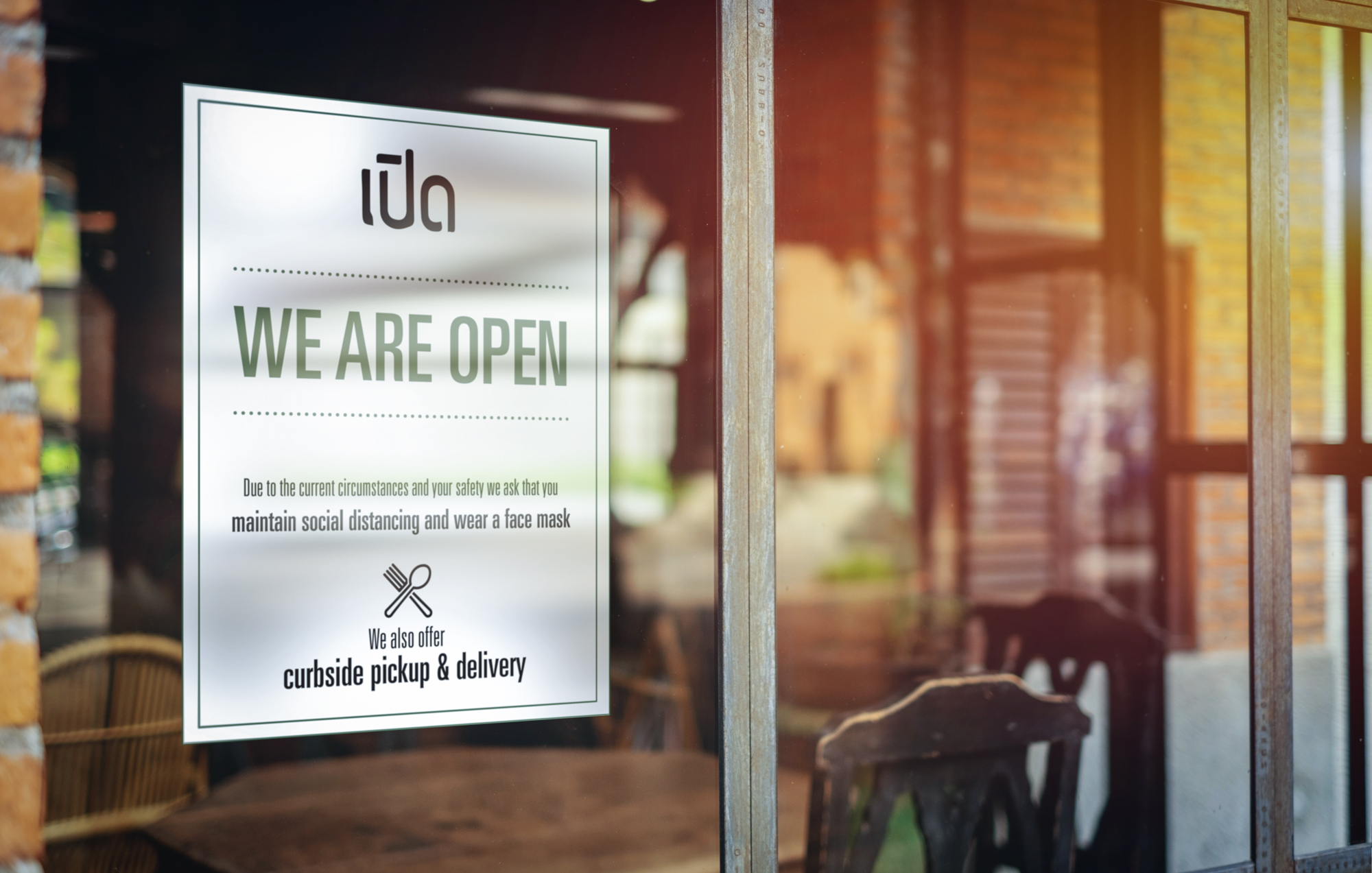 Most businesses are now finally able to open their doors once again. While it's great to see this return in our economy, the reality is that business will be forever changed. From day-to-day operations, to long-term marketing strategies, there truly is a new normal forming. One of the best ways to ensure the safety of your employees and customers at this time is the use of signage to help navigate the changes within / your physical location. We're going to cover a few of the most common options for COVID business signage and how each might not only help your company find some ease in this still very uncertain time but also reflect your brand.
Floor graphics
Perhaps one of the most common types of signage that we're seeing in just about every establishment is the reminder to keep a safe distance from others. When it comes to floor decals, social distancing graphics are a popular and effective way to help visitors understand the new protocols whether it be keeping a distance at the cafeteria or check-out line or enforcing one way traffic. Social distancing graphics are typically produced as circles, squares or other common shapes and applied directly to the surface of the floor, but can actually be cut to any shape or size. They come in a variety of adhesive backed materials that will work for low pile carpet, hardwood, tile and concrete floors. These graphics can either be custom designed, or there are plenty of pre-designed templates that can be used with your company colors or logo.

Another popular use for floor graphics are adhesive vinyl decals that can be applied to areas where there needs to be a limit to the number of people present. These are commonly found in elevators and other small spaces. Just like the social distancing graphics, these can be custom designed to align with your brand. Additionally, many choose to add lamination for an easy application and cleaning.

Window, wall and door decals
Utilizing the space and visibility of windows, walls and glass doors, these decals are a great option to display pertinent information before a visitor enters an establishment. Whether it's new or temporary hours of operation, requirements like having a face covering, or even changing the directional flow of the space to only allow people to enter and exit out of specific locations, adhesive vinyl decals can be a great option. The bonus is that you don't require additional fixtures that could take up space, and the lettering or decal can be applied directly to the windows, walls and/or doors of your establishment for a clean look.

>> Looking for help with the graphics install? We've got you covered! Email reachout@sabredigitalmarketing.com.
Freestanding signage
In addition to the application of graphics and decals, there are a variety of freestanding signage options that can be perfectly suited for your business including the following:
Retractable banner stands
Stanchion signs
Easel signs
Sidewalk signs
Countertop signs
Freestanding signage is a great solution for displaying announcements, protocols, or other important information to help keep your customers informed and safe while inside of your location. A few of the benefits to freestanding signage is that they are often very easy to set up without the need for a professional installation, they can fit just about any poster or print size, and can be easily changed out in most cases while keeping the sign holder or frame fully intact. Some of the common materials used to print freestanding signage include paper, cardstock, fabric, vinyl, PVC and styrene.
>> Curious about what material is best for your company's freestanding signage? Send us an email at reachout@sabredigitalmarketing.com.
No matter what type of graphics or signage you're looking for, we are sure to have a solution that best suits your needs. As always, we are here to assist you from concept and design to production and installation. We're here to help all businesses define their new normal.